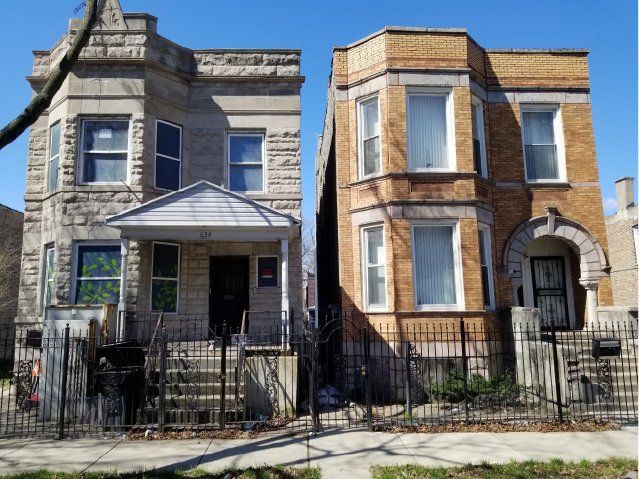 Woodlawn Long-Term Homeowner Repair Grant
The Woodlawn Long-Term Homeowner Repair Grant program is NOT accepting any new applications.
Program Overview
The Woodlawn Long-Term Homeowner Repair Grant Program provides eligible homeowners in the Woodlawn neighborhood with up to $20,000 for exterior home repairs and costs.
Eligible home repairs include – but are not limited to – roofs, windows, entryways, porches and masonry. Up to 30 percent of the total grant amount may be used for interior health and safety improvements, including repairs to heating, electrical and plumbing systems.
Note: The $20,000 includes architectural, permit, and other costs.
General Eligibility Requirements
Homeowners must meet the following requirements to be eligible for a grant:
1-4 unit property, owner occupied and primary residence
No overdue water bill or parking tickets
No current grant lien on property, unless it's over five years old
No previous MMRP / Target Block Grant in the past five years
Owned and lived in the property for the past five years
Current on property taxes
Not in foreclosure
Income Eligibility
All household members 18 years and older must not exceed the following annual income guidelines
City of Chicago Area Median Income Chart:
Maximum eligible gross incomes are shown for household sizes in chart below.
Number Of People
In Your Household
Maximum Allowable Income
(120% AMI)
1 Person
$78,360
2 Person
$89,520
3 Person
$100,680
4 Person
$111,840
5 Person
$120,840
6 Person
$129,840
7 Person
$138,720
8 Person
$147,720
Document Requirements
Proof of ownership

Copy of recorded deed and/or copy of your most recent mortgage statement

Proof of Household Income (ALL persons 18 and older)

Copy of 2019 & 2020 Federal Income Tax Returns and ALL scheduled INCLUDING W-2 Statement AND 3 recent pay stubs (showing year-to-date earnings)

If applicable:

Copy of 2021 Social Security Monthly Award Letter
Copy of IRS 1099 Form for Social Security or Pension Benefits (2021 Pension Monthly Statement)
Public Assistance Award Letter

Proof of Homeowners Residency (ALL persons 18 and older)

Driver's License or
State of Illinois ID Card

Proof of Homeowners' Property Insurance in Effect

Copy of Homeowners Insurance Declaration Page

Lease(s) for Rental Units

If two or more units within the property
Application Instructions
Please thoroughly review General Eligibility Requirements, Income Eligibility, Documents Required, and Application Instructions before starting your application.
Completed applications can ONLY be sent by mail, by FAX to 773-329-4021 or dropped off at our Central Office or South Side Hub, located at:
NHS Central Office (Wicker Park): 1279 N. Milwaukee Ave., Suite 400, Chicago, IL 60622
NHS South Side Hub (Chatham): 639 E. 87th St., Chicago, IL, 60619
Our offices are open Monday-Friday from 9am-5pm.
Completed applications can be submitted to NHS office locations beginning on Monday, January 3, 2022. Completed applications sent by mail must be postmarked no later than 5 p.m. on Tuesday, February 15, 2022.
Frequently Asked Questions