State Farm, NHS team up to make community impact
Five service projects, five neighborhoods, one outstanding partnership.
For over 35 years, State Farm and NHS have worked together with residents to strengthen communities across the City of Chicago. However, this June, the collaboration reached a whole new level.
In celebration of Homeownership Month, the coalition was determined to complete projects that would make a real impact on the South and West Sides of the city.
State Farm agents, staff, and executives joined their neighbors to build, plant, paint, clean, and beautify community spaces.
The efforts were part of NeighborWorks America's nationwide campaign to give back in our communities and to acknowledge the thousands of volunteers, business partners, national and civic leaders who stand with us to help deliver on our critical mission.
Here's a look back at all we accomplished:
Englewood
The Wood Street Meet & Greet Garden is ready for the season! Volunteers built durable garden beds and filled them with plants and flowers. They also cleaned and planted new flowers in the turnabouts around the Englewood community.
You can visit the garden at 6138 S. Wood Street.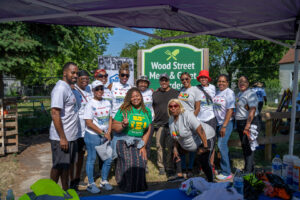 View full Englewood photo album.
Auburn Gresham
Residents came out in full force for a block clean-up and flower beautification in the 7600 – 7800 blocks of S. Green, S. Peoria, S. Sangamon, and S. Morgan. Alderman Walter Burnett joined us and we heard from local businesses serving the community.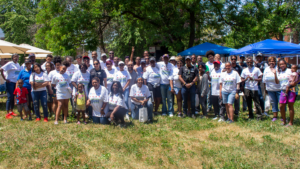 View full Auburn Gresham photo album.
Dolton
State Farm and NHS also work tirelessly in the South Suburbs. That's why the group linked up in the 13800 and 13900 blocks of Kanawha Avenue in Dolton for a block clean-up and flower beautification. Volunteers also helped neighbors set down new plants in their front yards.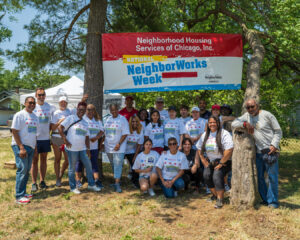 North Lawndale
The Pop-Up Spot Community Garden by Pastor Reshorna Fitzpatrick is a welcoming gathering area for all residents of North Lawndale. Alderwoman Monique Scott, Illinois State Rep. Lakesia Collins, and Cook County Commissioner Dennis Deer's office all lent us a hand with refreshing, planting, weeding, and laying gravel in the garden.
You can visit the community garden at 1400 S. Central Park Ave.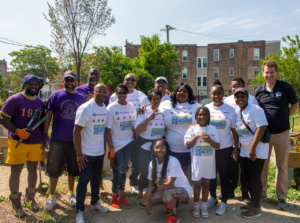 View full North Lawndale photo album.
West Humboldt Park
The heat didn't stop State Farm staff from showing up to Ujima Community Garden in numbers! Volunteers painted, mulched, weeded, and planted to beautify this neighborhood gem.
You can visit the garden at 545 N. Central Park Ave.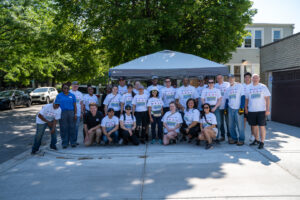 View full West Humboldt Park photo album.
Special thank you to all who volunteered!