How Mayor Brandon Johnson Can Advance Homeownership
NHS President & CEO, Anthony E. Simpkins, pens an open letter to the new Mayor on how to address the racial wealth and homeownership gaps in Chicago. 
Dear Mayor Johnson,
Congratulations on your election as Chicago's 57th Mayor!
Chicago should be a place where everyone has an equal opportunity to thrive and succeed. Instead, Black families in our city today have just one cent for every dollar that White families have in net worth, and our racial homeownership gap exceeds those of Los Angeles, New York, and Washington, DC.
Homeownership has long been the key to building generational wealth and accessing the American Dream. By strengthening the partnership between City government, financial institutions, and nonprofits working to advance affordable homeownership, we can help more low-moderate income Chicagoans and Black and Brown families access the wealth-building power and the safety and security of owning their own home.
Expanding access to affordable housing is critical to building a prosperous and equitable future for Chicago, and homeownership should be an essential part of any affordable housing and community development strategy. Homeownership builds family and neighborhood wealth, builds community, supports local businesses, and creates jobs. Homeownership is also an affordable option for many families. The cost of a mortgage for a family is more stable over time than the ever-rising cost of rent. In Chicago, moreover, a family at 60% AMI can pay up to $1,700 in rent for an "affordable" 3-bedroom Tax Credit apartment (HOME rent). Yet, that same monthly payment can pay the mortgage on a home worth around $250,000, from which the family will be able to build equity.
Yet, the City has historically allocated few resources to homeownership. According to its Annual Housing Report, in 2021, for example, the City Department of Housing (DOH) spent $290.5 million in resources to create or preserve rental units in Chicago, but only 13% of that amount ($37.8 million) for affordable homeownership. Neighborhood Housing Services of Chicago (NHS) is uniquely positioned to assist your administration with correcting this situation and to support your efforts to pursue a bold agenda of revitalization for Chicago's low-moderate income neighborhoods and communities of color.
NHS is a non-profit affordable housing organization and Community Development Financial Institution (CDFI) working to achieve this very goal. We serve borrowers and homeowners of color by providing homeownership and financial education, foreclosure prevention counseling, mortgage lending, affordable housing development, community programming and resident engagement on Chicago's South and West sides. Since our founding, we have served over 250,000 Chicago area households and loaned nearly $700 million for people to buy, fix, and keep their homes. Through our partnership with the City, administering the Troubled Buildings Initiative, Home Repair Program, TIF Purchase Rehab, and other programs, we have preserved more than 16,000 affordable units across the City.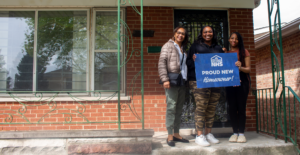 Homeownership strategies to address the racial wealth gap
Our experience has shown us that there are three critical homeownership strategies that should be part of an effective housing strategy for the City of Chicago to address the racial wealth gap and improve neighborhoods:
Flexible purchase subsidies for owner-occupant buyers of homes and 2 – 4 flats
Creative financing tools to support more equitable and affordable mortgage for homebuyers
Restructure city contract procedures with community based organizations
Flexible Purchase Subsidies
Rising interest rates, home values and construction costs have made homeownership harder to access for more and more Chicagoans. Many renters who could otherwise become homeowners, don't have the cash to cover the full upfront cost of buying a home in today's market. Homebuyers also face significant appraisal gaps in many of Chicago's historically redlined and disinvested communities, which suffer from systemic real estate undervaluation or affordability gaps in opportunity areas in today's housing market.
NHS has been providing down payment and other purchase subsidies for homebuyers for decades through City-sponsored and other programs. Current purchase assistance programs, however, don't go nearly far enough in helping aspiring homebuyers cover these rising costs. As we continue to heavily subsidize critical affordable rental units, we have to apply the same thinking and resources to subsidies for creating new Black and Brown homeowners. Deep, flexible subsidies of up to $75,000 for rehabbed homes and up to $120,000 for new construction homes, per buyer, are needed to help expand affordable homeownership, especially for residents of color, in Chicago.
Creative Financing Tools
During your campaign you noted that "there are thousands of Chicago families that can afford a mortgage today, but are shut out because of their credit score or lack of credit history." We agree with this sentiment wholeheartedly. However, we disagree with the idea that financial institutions need the support of city funds to create Special Purpose Credit Programs to provide more mortgages. They already have the ability to create and profit off of these programs on their own. Yet, Home Mortgage Disclosure Act (HMDA) data shows a persistent disparity in the ability of people of color to get mortgages to buy homes. HMDA data shows that applicants of color are denied loans to buy homes 2x – 3x more than White applicants, regardless of home price, down payment amount or credit profile.
Nonprofit affordable housing Community Development Financial Institutions (CDFIs) have been providing mortgage and counseling services to Black and Brown homebuyers for decades. Over 90% of our borrower's are people of color. CDFI's like NHS need flexible and creative financing tools to leverage private capital in order to expand our work and provide mortgage access to more borrowers. A loan loss reserve of 10-20% is needed to provide risk-mitigation for investors when we raise the capital necessary to originate 30-year mortgages. Homeownership organizations can leverage these funds to raise millions of additional dollars in private capital for fairly-priced mortgage loans to borrowers of color and low-moderate income borrowers. These loans will be made without the systemic barriers of risk-based pricing, overlays and costly mortgage insurance that traditional banks and lenders use, and will be offered with flexible underwriting standards to meet Black and Brown homebuyers where they are.
City Contracts with Community Organizations
Community housing organizations like NHS are deeply rooted in the neighborhoods we serve and work to deploy services, programs, and resources to uplift and respond to residents and their housing needs. The residents we serve are not just our clients, they are our neighbors. NHS is a delegate agency and program administrator for a number of important City programs that assist existing and aspiring homeowners. These partnerships with the City have been essential for us to administer State, Federal, and local resources and help support new and existing homeowners and the neighborhoods they call home.
Currently, organizations like ours are required to cover the cost of City contracts upfront, including all grants that are disbursed to Chicago residents and our own operating costs for administering and deploying the programs. This adds up to millions of dollars of our own funds that we must spend each year, while we await the City's lengthy contracting and reimbursement process, which can take six months or more sometimes. In addition, the organizational funding received through these city contracts doesn't even reimburse delegate agencies for interest costs we incur to front-fund these programs. This can wreak havoc on organizations with small, and even with large budgets alike, and does further the City's goal of supporting community groups in their work and their efforts to promote the City's community development goals. A re-examination and overhaul of the systems by which the City leverages, contracts with, and supports community-based organizations in definitely in order, and something we are hoping your administration will address.We remain committed to our partnership with the City, and will continue the important work that partnership advances for City residents. We would also be happy to provide any insight into improving this issue you may be able to use.
Mayor Johnson, we appreciate the opportunity to share our expertise and recommendations during this time of transition. We have a shared goal of addressing the racial wealth and homeownership gaps, and we believe these are the most effective ways to make our city a place where everyone can thrive and succeed. NHS stands ready to partner with you and your administration to build thriving neighborhoods and opportunity for all Chicagoans, and would love the opportunity to discuss this more with you and your transition team.
Warm Regards,
Anthony Simpkins
President & CEO, NHS