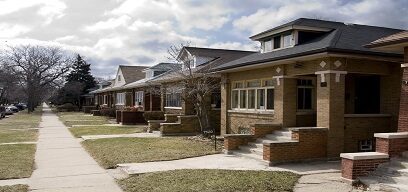 Targeted Home Improvement Grant
NHS is no longer accepting Targeted Home Improvement Grant Applications for the 2022 program.
Program Overview
The Targeted Home Improvement grant covers exterior home repairs. To qualify, your property must be in one of the City of Chicago's 10 MMRP Target Areas or the Woodlawn or North Lawndale Community Areas. You must be an "owner-occupant" of a residential property (1 to 4 dwelling units) in one of these targeted geographies. "Mixed-use" (residential & commercial) properties are ineligible. Please read below for more detailed eligibility requirements.
General Eligibility Requirements
Eligible homeowners must:
Own and occupy the home for at least one year from applying.
Live in a 1-4-unit property.
Meet household income requirements. See Income Eligibility below.
Live in one of the City of Chicago's 10 eligible MMRP Target Areas or the Woodlawn or North Lawndale Community Areas.
Not have received a Targeted Home Improvement Grant, Target Block Grant, MMRP Targeted Areas Grant, or a 606/Bloomingdale Trail Grant in the past 5 years
Not owe the City of Chicago any delinquent debt (i.e., parking tickets, water debt, administrative hearing, etc.)
Eligible Repairs
Targeted Home Improvement funds are primarily available for exterior home improvements. However, up to one-third of the total granted funds may be used for immediate health and safety-related repairs. Examples of eligible repairs include:
Roof repair or replacement
Front and rear porch repair or replacement
Window and door repair or replacement
Concrete patios and walkways
Faulty wiring, non-functioning furnaces or boilers, leaking plumbing, etc.
Tuckpointing and masonry repair
Income Eligibility
Targeted Home Improvement grants are available to low and moderate-income households earning up to 80% of Area Median Income for the Chicago Metropolitan Area as determined by the U.S. Department of Housing and Urban Development. Please see table below to see if you meet the income eligibility requirements. Household size and income will be verified by using tax returns and other financial documents during the application process. Additionally, for 2-4 unit properties, NHS will need to verify household income for each tenant occupied rental unit. Please refer to the list of required documents you will need to complete the application process. If you are not sure about your income eligibility, please call NHS at 773-329-4111.
City of Chicago Area Median Income Chart
(Area Median Income (AMI) for the Chicago Metropolitan Area effective as of April 18, 2022, per the U.S. Department of Housing and Urban Development.)

Number Of People
In Your Household
Maximum Allowable Income
(80% AMI)
1 Person
$58,350
2 Person
$66,700
3 Person
$75,050
4 Person
$83,350
5 Person
$90,050
6 Person
$96,700
7 Person
$103,400
8 Person
$110,050
Document Requirements
Identification:
Illinois Driver's License OR copy of State of Illinois Identification card for the property owner(s) and household member 18 years of age or older
Property Documents:
Proof of ownership (i.e., copy of Recorded Deed and/or a copy of the most recent mortgage statement, if there is a mortgage on the home)
Proof of current homeowners/property insurance (i.e., copy of homeowners insurance declaration page)
NOTARIZED LETTER from any person(s) on title NOT living in the home indicating that they approve grant's terms, conditions, and use to make home improvements (if applicable)
Proof of Income:
Two most recent years (2020 & 2021) of Federal Tax Returns with all scheduled attached for all household members 18 years of age or older
Two most recent years (2020 & 2021) W-2 statements for all household members 18 years of age or older
Three most recent (past 30-days) paystubs for all household members 18 years of age or older. If a household member is receiving unemployment income, the most recent unemployment documents are required.
SIGNED AND NOTARIZED copies of current Profit and Loss Statement for all household members with Self Employed Business
NOTARIZED LETTER signed by any household member 18 years of age or older that does not file Federal Income Tax Returns due to being on a fixed income (i.e., on Social Security or Pension income)
2022 Social Security/Pension award letter showing MONTHLY amount awarded for any household members that receive Social Security/Pension income
Public assistance award letters for all household members 18 years of age or older (if applicable; exclude SNAP/Link benefits)
NOTARIZED LETTER of explanation of no income signed by any household members 18 years of age or older who are not employed (must include last date of employment) or are full time students
For 2-4 Unit Properties Only
Tenant leases or 3 most recent rent receipts for rental units if there are 2 or more units in the property
If the units are vacant or are occupied by family not paying rent, please attach a NOTARIZED LETTER of explanation. Residents of units not paying rent are considered by the City of Chicago to be part of the homeowner's household and must also provide proof of income if 18 years of age or older.
Tenant Self Certification of Annual Income form(s) signed and dated by each tenant household member (found within the Targeted Home Improvement Grant Application)